My bagua history is as follows (Richmond VA college days at VCU 1990)- learned 5 element palms, single palm change from a guy teaching in Maymont park named Wilson who came from Robert W Smith side of Baguazhang (Gao), who also taught it's other Neijia arts- Taijiquan, and Xingyiquan.
Notes on Wudang Neijia
Baguazhang fight training
24 Heavenly Stems of Gao Baguazhang
Lu Shuai Tien's Baguazhang
Notes from Gao Baguazhang training
Xingyi neigong notes
Baguazhang notes- (1993-1997)
Later in 1992, I met and trained with Chinese Wushu Coach Weiqi-


She knew I liked bagua and taught me basic circle walking and single palm and double palm changes and gave me a rare instructional video that said "Cheng Baguazhang" for my birthday and said, "Here is one of my teachers Sun Zhijun- (the) authority on Cheng Baguazhang , follow the video and I'll make corrections". I worked on the basics and 4 sections instructional Cheng form and Weiqi made corrections. We later both created a demo form I used in competition in Shanghai in 1996. She also brought Xia Baihua to Virginia (9th Duan China),
who taught a really long and complex Baguazhang compulsory form. I did learn, but did not like, nor care to remember it…it was so difficult and long. I did however stick with the Chen Taijiquan 36 form he taught.
The actual Cheng form I learned

Then 1997, later to go deeper in Baguazhang I went to Park Bok Nam's school, (Lu Shuai Tien's disciple) paying the mid-tier tuition, so i could go and train as long as I wanted (as long as the school was open) during my last year at VCU, so i put a ton of hours a few times a week at his school with Park and Glen Wright.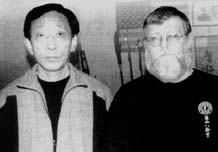 Park Bok Nam online article
Later 2005, on I trained a bit with George Wood (Gao under Lou DeXiu) when he was in Arlington Va.
Basically both Traditional and Wushu baguazhang, are what I have learned. I really feel there are some really good parts each teacher has shown me, that are very useful in fighting. In no way do I consider myself an authority on Baguazhang, more of a dabbler to answer my own questions on the fighting art. Any of those teachers are worth training with. Links to them are added. Weiqi has since is retired back to Shanghai China.